Can football be the number one sport in India?
FIFA General Secretary Jerome Valcke expressed his desire to see football as the number one sport in India. We discuss that possibility and the requirements it entails.
In a cricket monopolized country like India, it's difficult to imagine any other sport taking precedence over it. In a recent press conference, FIFA Genaral Secretary Jerome Valcke optimistically stated that he cannot wait to see football emerge as the number one sport in India. It's an exciting vision for football fanatics but whether or not it is a realistic prospect is another matter.
The statuses of cricket and football within the country are incomparable at the moment. However, even though knocking cricket off its lofty perch in the Indian sporting scene is entirely inconceivable for the foreseeable future, elevating football to a similar standing is a far more achievable objective.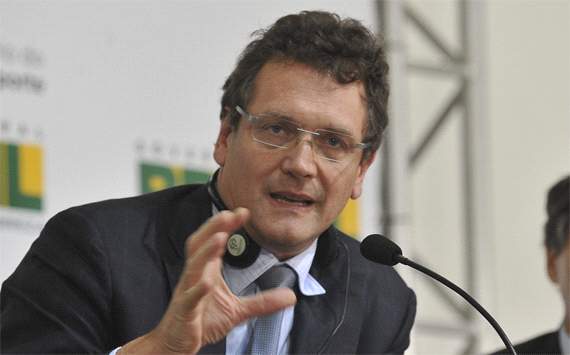 Reaching that objective remains a herculean task and requires the full commitment and dedication of all parties involved. It's important that things are done the right way in order to lay the foundations for the future. Cutting corners is not an option.
Indian football will need to be revolutionized starting right at the bottom at youth level. Proper football academies and coaching centres are paramount to the development of footballers from a young age. The most fundamental requirement is a ground on which to play football and that is not easy to come by. There are parks in and around cities but none of them meet the requirements of a proper eleven-a-side football game. Most of those parks are inevitably occupied by groups playing cricket unless of course the rain denies them the opportunity.
Apart from playing on school grounds, there aren't many places for children to hone their footballing skills in a recreational atmosphere. However, school grounds are not impressive either. Children are never going to learn how to play the game well on dry muddy pitches, concrete surfaces or puddle riddled mucky ones which are the only three kinds of grounds you will find on a school campus. How are children supposed to learn how to play a neat through-ball along the ground or perform a sliding tackle when the surfaces they play on don't afford them the opportunity?
With the dawn of the Wim Koevermans era came the promise to play a better brand of football. India's national coach is striving to implement a certain degree of the 'pass and move' style that so many European teams use so effectively. He stated in the past that he realizes that in order to truly get India playing a better passing game and to maintain it for future generations, educating the youth is essential. Organizing more tournaments for the young footballers at varied age groups will be highly beneficial.
There are tournaments at school level but for those teams that are eliminated during the early stages, there aren't any opportunities to play at a lower level. Once the team is eliminated from the few tournaments that are organized, the players don't see anymore football until the following year. Football needs to be active in schools for almost the entirety of the academic year. The scenario is even worse once students enroll in colleges. The tournaments are scarce and opportunities limited. The grounds are equally disappointing if not even worse. And this is the scenario in urban regions.
Between the ages of 12 and 18, aspiring footballers abroad have plenty of opportunities to enroll in professional football clubs in order to train and play youth tournaments regularly. Some of them even have the luxury of being scouted and lured into a club rather than having to seek one out. In India the scenario could not be more different. Finding a club to enroll in is difficult while club's who have youth systems in place are non existent.
This is where cricket is far more advanced as well. There are numerous coaching centres and academies for children at different age groups as the level of interest and enthusiam is far greater. It's not difficult to set up net practices while the tournaments open to the youth are numerous.
Coaches must be educated as well in order to pass on the philosophy to the children and embed it into the fundamentals of their game. Moreover, in order for children to carry out this philosophy and put their education into practice, the surfaces they play on must suit the style in which they attempt to. When the brand of football is good, the game proves to be a greater spectacle and automatically generates more audiences. People want to be entertained and an exciting style of play will serve to achieve that.
As of now, the mentality of coaches is to stamp out extravagant play and instead enforce discipline and a willingness to work which enables them to adhere to the Indian 'punt forward and run' strategy . If a youngster dribbles past a couple of players, he is branded a 'solo player',scolded and made to sit on the bench. However, if the same player resorts to lobbing the ball aimlessly forward in the 'vicinity' of a team-mate but invariably losing the ball, his attempts are justified and he'll probably be a first team regular. For this reason, the blame cannot be solely place on the quality of the pitches but also on the philosophical outlook of coaches.
There has been talk of forming a two-month promotional tournament with some famous international stars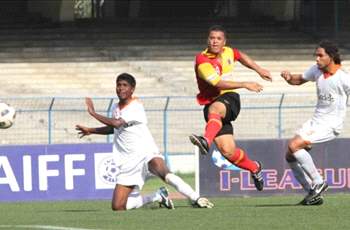 who are approaching retirement being touted to participate to boost the popularity and interest in the proposed new entity. The likes of Hernan Crespo and Robbie Fowler were among the names dished out but even though such a competition would generate a lot of hype and an increased commercial value as well, focusing on improving the level of the existing I-league should be the priority.
The structure of the league is already in place but it needs to be taken to the next level. Why experiment with a new commercially-based tournament which will come with its risks as well when there is a functioning league already in operation?
One of the main ways in which to elevate the national league and make it more attractive to audiences is to improve pitch conditions which would in turn allow for a better brand of football, something that consistently draws football fans in India to foreign leagues.
AIFF president Praful Patel has requested FIFA to provide them with a dozen more artificial turfs in addition to the eight that were provided previously. The turfs would be a big help but the fact remains that they need to be taken advantage of as well. It's important to lay those turfs in the right venues and do so in good time as well as four of the previous eight artificial turfs provided are yet to be utilized.

Valcke also made the point that in order to climb the FIFA rankings, India must play more games and with competitive sides on dates specified by FIFA. It is for lack of meeting these requirements that India have dropped down a place in the rankings despite winning the Nehru Cup. The AIFF needs to make more efforts to schedule a larger number of international friendlies with higher-ranked teams on the appropriate dates.
Cricket surged to prominence in India when the national team won the World Cup in 1983. The victory captured the attention of the masses and the craze for the sport propelled from there. For football to acquire some level of intrigue amongst the public as well, the national team will have to gradually achieve at a higher level. Defeating significantly higher-ranked sides could be a good place to start. India must then set their sights on qualifying for the Asia Cup and thereafter contend for the title as well.
It is a long and difficult path to success but the present is as good a time as any to embark upon it. There is a growing interest for football in the country and foreign clubs as well as FIFA have recognized that too. The global football governing body is eager to extend their support to India and develop us into a powerful footballing nation. All the raw materials are on hand, it's now up to those involved to pull together and fulfil this country's immense footballing potential